New tourists with plans to visit Phuket for the first time, may not know how to start planning their trip. What spots to include in the plan, what are the hot spots, or what are areas you don't want to miss.
In this blog, we will introduce the different areas of Phuket, showcase what's special about each area and what new experiences you can expect.
Let's start from the north of Phuket.
Layan Beach
If you're looking for a beautiful beach with calm clear waters, try Layan beach as the top choice. Located in Sirinat National Park, with an entrance that isn't easy to find. The quiet and tranquil environment here makes it the perfect place to lie and relax under the shade of tall pine trees bordering the beach.
This beach is rich in nature, surrounded by water, vegetation and island. Suitable for adventure lovers to visit for camping, hiking, bird watching, and staying close to nature. Walk along the beach, you will find Layan canals flowing directly to the sea. During the low tide it's possible to walk through the beach and cross towards Koh Kala – a small island located at its northern part.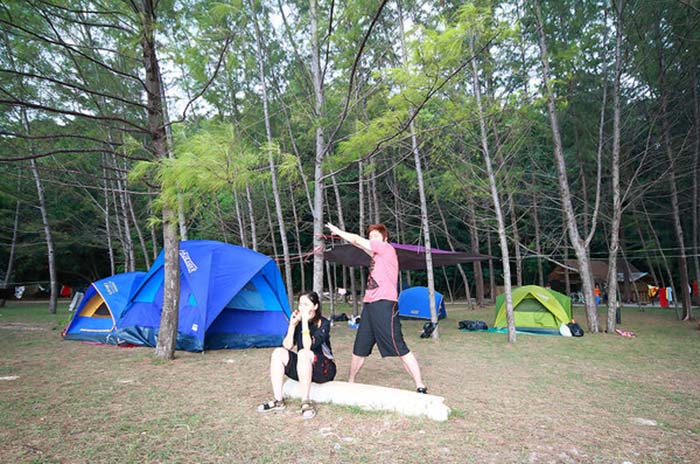 At Layan beach, you can pitch a tent to sleep at the park's service or choose to sleep in a luxury hotel, with the full service they provide. It must be said that there are no special activities on the beach, including no food vendors or street foods. If you choose to come here, prepare your own accessories and meals.
Choeng Thale
Choeng Thale is a sub district situated within Thalang District in Phuket, located adjacent to the beach, where the flood water does not reach the 6 villages here, resulting in this name.
Being a community near the beach makes people here have a career as fishermen, farmers, merchants, including a variety of lifestyles and cultures to visit and experience closely such as the goat farm, pineapple farm, rubber plantation, or watch a group of housewives cook rice yam, which are special delicious dish "Rice with Parmo Leaf" only found in Phuket.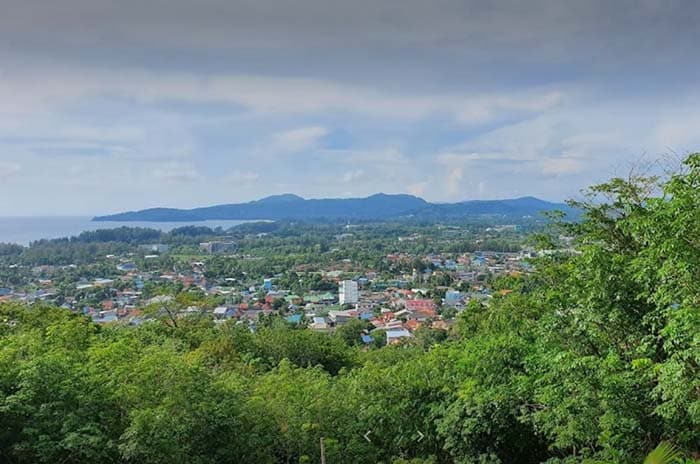 After visiting the community, you can go up the hill to the viewpoint of Bang Tao Phu Pha View, where you can see beaches from above, namely Surin Beach, Layan Beach and Naithon Beach.
If you want to go a little further, you can continue to Surin Beach. This is the highlight of Choeng Thale, lots of fun water activities: Swimming, diving, jet skiing, sailing, or surfing are all possible. It is known as the most popular beach for surfing activities because of the strong wind current.
Bang Tao Beach
Beautiful beach, a former mining area that has seen some changes in the scenery until it has become one of the most popular beaches for tourists. The beach is 8 kilometers in length, divided into 3 sub-zones, namely the northern zone, the middle zone, and the southern zone.
Anyone who likes the bustle and fun, it is recommended to be in the middle zone of the beach. It's the best place for water activities, such as jet skiing, sailing, or beach activities in the sun. Food and accommodation is all within reach.
But for those who enjoy tranquility, a quiet area with some minor activities and restaurants, the southern zone is recommended. For those who want to experience the way of fishermen, head towards the north zone, where you'll find fishing boats and fishermen who are actively making a living.
Laguna
Experience a special atmosphere with luxury accommodation in "lagoon" style, surrounded by lakes within a magnificent vacation kingdom, the Laguna Complex, which is home to 7 deluxe lagoon hotels together, as well as large parks, golf course, luxury villas within a gated community.
Being right next to Bang Tao beach makes your relaxation time more special than anywhere else. Enjoy many activities waiting to welcome you, such as golfing, kayaking, canoeing, stand-up paddleboarding, private beach spa or just chill out and enjoy the sea view with a private beach length of 3 kilometers without having to share with anyone.
Nai Yang Beach
A popular beach that is worth visiting is located in Sirinat National Park, only 1 kilometer away from Phuket Airport. The area is tranquil and full of nature, where many people love staying under the tree's shade while enjoying the cold drinks and local foods.
The beach itself is beautiful, large, shallow waters and sandy with a few beach chairs. Because of the clear waters, you may witness the beautiful coral reefs and life under the sea. Another special part of this beach, the place for sea turtles and sea cicadas lay their eggs.
Another highlight that should not be missed, seeing the planes landing at a distance that gives you some great photo shots!
Mai Khao Beach
This is Phuket's longest unspoiled beach, where you can walk from Nai Yang beach. Since Mai Khao is a national park, there are no beach loungers and vendors set up, making Mai Khao one of the most beautiful beaches in Phuket. Mai Khao Beach is more suitable for relaxing and taking photos rather than swimming due to its depth of the water here and no life guards to keep you safe.
Mai Khao Beach is notably known for the place where sea turtles come to lay their eggs every year and the perfect place to watch planes fly over our heads up close while taking selfies.
Naithon Beach
Beautiful beach, peaceful corner, ready for sunbathing and relaxing is Naithon Beach at Sirinat National Park. Come lie down and listen to the sound of the wind and waves in the quaint view of the bay. Divided into 2 parts; Nai Thon Yai, which is a beach that opens to the sea, with refreshing winds; and Naithon Noi, which curves away from the island, and provides protection from the wind.
This beach is perfect for those who like more peace and quiet but rich in nature with both pines and pandan trees. Go into the clear water and you will find a large coral reef; including a variety of aquatic animals.
Thepkasattri and Thao Si Sunthon Monument
Learn about a piece of Phuket's history by getting to know the two heroines who helped keep and protect the island safe from war. Thao Thepkasattri and Thao Sri Sunthon were formerly known as Thanpuying Chan and Khun Muk, in the past gathered the villagers' strength to fight off the Burmese Army with their wisdom and skill until they achieved victory.
Here is a monument to honor and remember the heroines, where Phuket people and tourists often visit and pray for auspiciousness. You can visit the monument at Ban Tha Rue intersection, in Si Sunthon Sub-District roundabout.